We not only pride ourselves with a very impressive list of satisfied, repeat clients but also a vast collection of unique printing projects that we have completed over these many years. We have experienced continued growth and expansion due to customer satisfaction and referral.
Our staff is well trained, highly-skilled, extremely dedicated and very experienced. Our attention to detail is unmatched. We have committed ourselves to excellence and would welcome the opportunity to serve you. Call for a free quote and see how our full range of printing equipment makes us the right choice.
Commercial Printing
From the simplest one-color to the most complex four-color plus printing City Data Supply is well situated to meet all of your printing needs. We have available single and multi-color offset equipment that is state-of-the-art. We can easily handle all finishing and bindery requirements.
We offer a complete one-stop source for your projects including prepress and design services. We also offer many special services and features including: aqueous coating, varnish, specialty papers, die-cutting, laminating and full-service bindery. We are equipped to produce print projects from 250 to 500,000 pieces with High–Speed Offset Presses, Digital Imagers, U.V. Dryers, Herbert Web Vacuums, KTI Splicers, Quad Tech computerized web registration systems and more.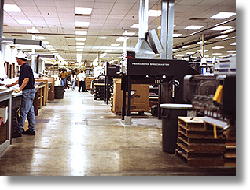 Mail-house Services
Our mail-house capabilities allow us to utilize your database for merge/purge functions. We output Cheshire labels to be placed on either envelopes or brochures, or we can use your file for lasering variable data imaging.
The inserting equipment can handle up to 8 items for insertion into envelopes. In addition, we can manage kit-assembly, hand insertion or bindery, bursting, mail-streaming and delivery to the Post Office. The warehouse and distribution facilities enable us to offer storage and distribution of your products at competitive prices all on our premises.