City Data Supply, Inc. (CDS) is a leading provider of office supplies and print management solutions, committed to delivering the highest quality of products and services at the most competitive prices. Our experienced people, product range, & superior distribution allows us to focus on a primary goal – customer satisfaction.
As a business-to-business supplier of office products, printed forms, furniture, and promotional items we provide a diverse and innovative solution to the corporate world.
Corporate Background
City Data Supply, Inc, was incorporated in the state of California in 1988. Over the years, CDS has established itself as one of the largest independent office products distributors in Southern California, serving customers in the corporate, medical, dental, apparel, industrial, financial, real estate, communications and government markets.
In 1995, City Data Supply moved to our current facility in Santa Ana, CA, providing a wide-range of products and services in one location.
Products and Services
City Data Supply offers office supplies, imaging & computer graphics supplies, furniture, promotional items, computer software and equipment to companies and organizations that value innovative procurement solutions.
Our comprehensive office supply catalog has over 25,000 items of both brand name and private label merchandise with simplified categories and descriptions. As a "single source supplier" we can save you time and money by eliminating the need for multiple suppliers, multiple orders, deliveries, and paperwork.
To reflect our expansion beyond traditional office supplies and printing services, CDS has kept pace with technological changes and the need for e-commerce procurement. Today, we offer web based office supply ordering along with document and print management; literature fulfillment and distribution services; inventory and warehouse management; billing and mailing services; production of forms, labels, stationery; and full-color printing.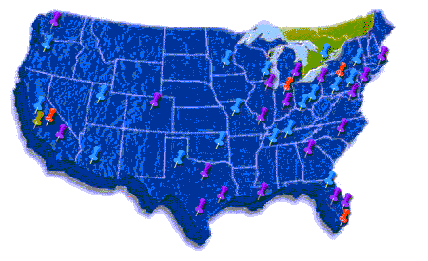 Distribution
Our advanced warehouse technology provides our customers the highest level of efficiency and quality service. We offer our customers accurate up-to-the-minute purchasing information, and next-day delivery of office supplies from our distribution centers strategically located throughout the U.S.
For our customers who participate in our forms management and warehouse distribution program we have one of the most sophisticated systems available to streamline the information management process. With management reports such as our "forms re-order summary" and preset quantity minimums, our clients enjoy the satisfaction and insurance that they will always have the forms they require when they need them.

Sales and Marketing
City Data Supply sells its products and services by catalog and direct sales associates. Our company is designed to service local and national accounts. Customer Service Representatives are trained to maintain optimal responsiveness and anticipate customer needs.
Billing Options
We have a variety of methods for your purchasing needs. Whether you use a corporate credit card, Electronic Data Interchange (EDI/EFT), or traditional Net 30 terms, you can choose the type that you require. A summary billing option is available which can simplify the payment reconciliation process.
Returns and Credits
As your supplier, we will work with you on the return of incorrectly ordered or defective merchandise. If you are unhappy with the office supplies you receive for any reason, simply return the product in its original packaging within 30 days and we will give you a full refund. In addition, the Universal Brand carries a one-year satisfaction guarantee.